Signed the Declaration of Port of Spain without complete approval
Submitted by: admin

04 / 21 / 2009
---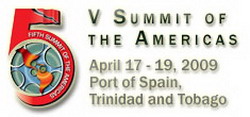 Trinidad and Tobago Prime Minister Patrick Manning, in his capacity as Chairman of the Fifth Summit of the Americas, signed the Declaration of Port of Spain, but made it quite clear that the contents did not meet the approval of all the leaders, and it was more or less compromised.

He explained that the Declaration did not have complete approval since some countries had reservations, but got the consensus for him to sign in his capacity as Chairman of the Summit.

The Draft Declaration was criticised by Latin American leaders, but Manning explained that there have been several important developments since the draft was prepared by technocrats nearly two years ago. There have been many changes including a new administration in the USA and the G-20 conference, which made an allocation of resources to institutions such the Inter American Development Bank (IADB).

There was concern over how the $250 billion allocated to the IADB will be disbursed, since the less developed countries should not be marginalised.

Manning said that he was extremely pleased with the manner in which the Summit was conducted, pointing out that there were threats that the conference would be derailed, but it turned out otherwise. In fact, Manning said that he has been in public life for a very long time, and never before did he experience so much spirit of co-operation among the delegates.

He said, however, with 34 countries involved, there were different of opinions and views, but with a culmination of efforts the Summit was very successful.

The Trinidad and Tobago Prime Minister said that US President Barack Obama's statement set the stage for a new direction, which was more or less followed by Venezuela's President Hugo Chavez as well as Bolivian Head of Government, Evo Morales Ayma.

Manning added that the conference was conducted in a spirit of goodwill.

He said that the participants at the Summit were concerned about the state of affairs in Haiti. In fact, he said that no country will feel proud that the situation in Haiti exists, and added, "None of us could rest comfortably with the situation."

He said that the country's president made a suggestion for a funding development programme for the French-speaking island, and Manning said the proposal will be discussed at the next meeting scheduled for June 1.
Text of the Declaration: http://74.81.198.17/uploadedFiles/Fifth_Summit_of_the_Americas/Knowledge_Centre/DeclarationofCommitmentofPortofSpain_2009_ENG%20%20%20%20%20.pdf

Source: Caribbean Net News
---
Related News
---