Hugo Chavez denies any enmity with Raul Castro
Submitted by: admin

03 / 23 / 2009
---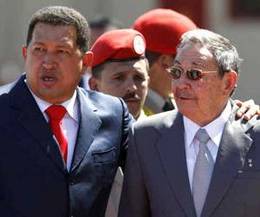 "I have become a close friend of Raul Castro. I did not merely know him" he said during a  TV appearance after highlighting that : "there is a little campaign going on that says that Raul and I have been keenly contested."
"It seems he referred to the Mexican chancellor Jorge Castañeda, who in a published article in several Venezuelan daily editions this week suggested that the removal of the now former president of the State Council,  Carlos Lage and of the Foreign Affairs Minister, Felipe Pérez Roque, could have to do with a supposed plot against Raul Castro in which Chavez would be involved.
Fidel Castro's brother, whom is called by the Venezuelan governor as "father" is a very sensible man" "whose eyes shine" when he recalls his recent late wife", his eternal love, comrade Vilma Espín.
Raul Castro made his first trip abroad to Venezuela since he took office in response to several visits Chavez made to the island, in one of these visits he said that the present Cuban governor took him to visit his home in which he lived with Espín.
He also recalled that Raul Castro showed him the table in which "Fidel and Che Guevara sat for the last time" a few moments before the departure of the Argentine-Cuban revolutionary to Bolivia and that was one of the first governors that called  to congratulate him after the last month referendum that will make reelection possible as many times as he wishes to do so.
"He called me to congratulate me for the victory of February 15; he told me Fidel is so well that he is willing  to wear the uniform" though I do not know if he will wear it again (..) maybe he does not do it because he is not the Commander in Chief anymore, he is the leader but Raul is the commander in Chief" Chavez remarked.
(ADN.es)
---
Related News
---