Venezuelan president criticized the US blockade and the exclusion of Cuba
Submitted by: admin

03 / 20 / 2009
---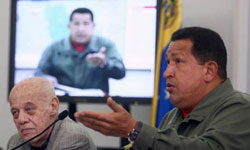 Venezuelan President Hugo Chávez Frías said that the ALBA meeting will be held on the eve of the Summit of the Americas being held from April 17 to 19 in Puerto España, Trinidad and Tobago.
The Summit of the Americas will be the first gathering between Latin American leaders and US President Barack Obama.
Chávez strongly criticized the exclusion of Cuba's participation in the summit, "It is the only country of the hemisphere excluded from the Summit of the Americas; this fact needs to be analyzed during the regional meeting. Cuba is part of Latin America. It doesn´t make sense that after having joined the regional institutions, summits and mechanisms, it is excluded from the Summit of the Americas."
The Venezuelan leader criticized the US economic, commercial and financial blockade against Cuba and said that he hopes the new US administration defines its position regarding this issue.
Speaking about the ALBA Summit, Chavez expressed the interest of Antigua and Barbuda in joining the ALBA.
Regarding El Salvador joining the ALBA, Chavez said that this integration mechanism "has opened arms and hearts to receive El Salvador, if its government decides to do so. This is a decision that only president-elect Mauricio Funes can make."
ALBA members Cuba, Bolivia, Dominica, Honduras, Nicaragua and Venezuela have taken important steps to consolidate the objectives of the organization, as a viable integration alternative based on solidarity, equality, and political, economical and social cooperation.
Since its inception, ALBA has established a regional ALBA bank and approved the creation of the Permanent ALBA Commission to monitor integration projects that have been approved at presidential and ministerial summits.
Education Ministers of the member countries met in the city of Nueva Esparta over the weekend with a focus on working together to carry out a literacy campaign throught the region to eliminate illiteracy by 2010, supported by Cuba and Venezuela.
(PL)
---
Related News
---