Biennial Arts Fair to Begin in Havana
Submitted by: admin

03 / 10 / 2009
---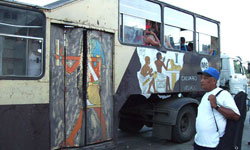 The Tenth Havana Biennial aimed at fostering reflection, through visual arts, on pressing current social and cultural problems, with a focus on integration and resistance in the global age, will take place from March 27 to April 30.
More than 300 creators from 54 countries have confirmed their participation in the contemporary arts event, which will include the presentation of works from Latin America, the Caribbean, Africa, Asia, the Middle East, and on a smaller scale from North America, Europe and Australia.
Described by the specialized critics as one of the few biennials that still maintain its profile, the Tenth Havana Biennial will have nine special guests and two creation workshops. Once more, the Morro-Cabaña Fortress will host the large-scale exhibitions, while smaller presentations will be carried out in colonial buildings of Old Havana.
Among the artists presenting their works at the biennial are Chinese Liu Xiaodong (exponent of the so-called cynical realism) and Chen Xiaoyun (video-art). There will also be presentations by the Punto de encuentro project, organized by Cuban Kcho with renowned international artists who have worked together in biennials around the world.
There will be exhibitions devoted to the late Japanese Shigheo Fukuda, one of the best designers of all times, and also the late Colombian Fernell Franco, known as one of the greatest Latin American photographers. These exhibits will take place at the Wilfredo Lam Contemporary Art Center and the Cuban Photographic Library, respectively.
Also participating in the biennial will be South African Sue Williamson, French Canadian Hervé Fischer, and Brazilian Paulo Bruscky, among others.
(Juventud Rebelde)
---
Related News
---