Between Dreams and Frenzies: Fernando Birri in Havana
Submitted by: admin

02 / 25 / 2009
---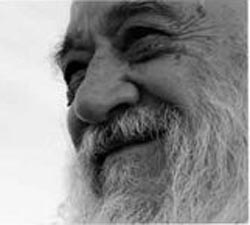 "Light for the new, new, new…Latin American cinema," this was the phrase used by Fernando Birri, one of the founders of New Latin American Cinema, to conclude the masterly lecture given at the Student House in the University of Havana.
Birri was delivering his acceptance speech after receiving, from the academic institution and the New Latin American Cinema Foundation, José Manuel Valdés Rodríguez Commemorative Seal, named after the pioneer of Cuban cinema reviews.
Birri, famous for his film Los inundados, among other movies, said that "this shared homage is accepted on behalf of all those of us who have worked for so many dreams and frenzies to come true."
The Argentinean movie director, who was also the first principal of the San Antonio de los Baños International Cinema and Television School (EICTV), on the outskirts of Havana, held the auditorium in awe for an hour with stories and reflections about the course of today's cinema in light of the new technologies and the new world order.
The most significant moment of the gathering was when Birri was handed over the photocopy of a letter found in the personal archives of José Manuel Valdés Rodríguez, sent by him to the Island in November 1959, in which he expressed interest in filming the revolutionary exploit.
The occasion was also auspicious for the Argentinean filmmaker to personally present, "for the first time in Cuba," two books penned by him and published by the New Latin American Cinema Foundation. ¿Cómo se filma un film? (How Is a Film Filmed?) is a selection of the seminars taught by him in the 80s at the International Cinema and Television School and Cuadernos de Bitácora (Log Journals) is a book written in the late 40s, at the defining moment when he did not know whether he was going to be a lawyer or a filmmaker.
Both books were presented afterwards, by Birri himself, in the context of the 18th Havana International Book Fair.
(Cubanow.net)
---
Related News
---