Cuban Medics in Guatemala Attend Science Forum
Submitted by: admin

02 / 08 / 2009
---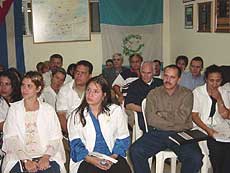 "This is an example of the work carried out by our health professionals, which not only assist people in communities, but also research their health problems and develop strategies," BMC coordinator Jose Ramon Ruiz said.
The forum awarded the work "Vaginal delivery on pelvic presentation," by doctors Tania Pulido and Abel Barrios, due to its importance as a teaching material to avoid mother and perinatal deaths.
Also on the list were "Red alert in Sayaxche," by Ania Carmenate and Andres Vasquez, and "Tuberculosis, characteristics of patients hospitalized," by Gladis Blanco, expert in internal medicine and master in infectious diseases.
The work by Maite Suarez and Rebeca Spaizman on sexual and child abuse in the department of Jalapa, received a special mention.
BMC dean Madeleine Garcia highlighted the high level of those conferences and the importance of this kind of events to exchange experiences and knowledge among collaborators working in different departments.
Cuban ambassador to Guatemala Omar Morales congratulated participants for the works and praised the role the island's brigade has played in over 10 years of work in this country.
ELAM graduates, Guatemalan health staff, and representatives from regional entities like the Pan-American Health Organization also attended this forum.
(PL)
---
Related News
---