Looking at Martí Art Exhibition Opens in Havana
Submitted by: admin

01 / 28 / 2009
---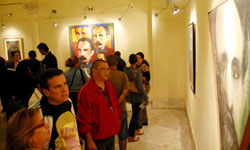 An exhibition of ten large paintings by ten different artists was inaugurated on Monday at the Orígenes Art Gallery of the Gran Teatro de la Habana. Looking at Martí is a tribute by the Young Communist League (UJC) to Cuban National Hero José Martí, on occasion of the 156th anniversary of his birth date.
The gallery is a stone's throw away from the Central Park, where the first statue ever erected to José Martí in Cuba is located. The paintings show different aspects of Marti's life and personality: his work as an activist; his talent for summoning people; his restless, penetrating character, as imagined by painter Roberto Diago Querol; the man of thought, as represented by Alberto Jorge Carol; and the Cuban hero by Juan Vicente Bonachea's painting.
Other Cuban artists also taking part in the exhibition are Flora Fong, Mariano Rodríguez, Nelson Domínguez, Raúl Martínez, René Portocarrero, Ernesto García Peña and Ernesto Rancaño. Some of the paintings represent another side of Martí, the modest, tender man, who wanted to cast his lot with the poor, a man who once said that all the glory of the world fits in a kernel of corn.
At the opening ceremony, Luis Morlote, president of the Hermanos Saíz Cultural Association (AHS) said, "Each of these paintings is a particular evocation of the symbol that Martí represents for all Cubans. All of these works, without exception, stemmed from an intimate dialog of the artists with the man who, as Cuban writer Lezama Lima said, "is a mystery who accompanies us."
Also present at the ceremony were Armando Hart, president of the Martí Program Office, and Julio Martínez, first secretary of the Young Communist League.
Visibly moved by the exhibition, Hart expressed his gratitude to the Cuban youth. "Nothing pleases me more than meeting with you," he said. He also announced the launching of a contest aimed at promoting Marti's ideas next February 24.
(Juventud Rebelde)
---
Related News
---