Kcho a Cuban plastic artists: I'm working in the biggest work of my life
Submitted by: admin

01 / 20 / 2009
---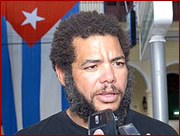 The artists who has declared that he has a love relationship with this island and whose work are exhibited in the most important galleries of the world, showed that the singularity of his art was, not so much in the metaphoric appropriation of reality, but in the creation of useful and important human actions.
Without diminishing his extraordinary creative quality as a plastic artist and that almost mystic obsession to leave a proof of the migrations of the Cubans, Kcho raises today as an icon of solidarity among his people and as an example of the universal dimension of the revolutionary artist.
When last 30 of August the powerful hurricane Gustav impacted with a devastating force his born Isla de la Juventud and later to Pinar del Rio, in western Cuba, he had no doubt to immediately leave his workshop and work to help the victims.
Since that moment on his brush left the material to cover the new walls lifted among the rubbles and his hands cleaned the mud to lift ceilings and build doors.
A little later he founded the Martha Machado artistic brigade that has been extended – after the pass of time after the hurricanes Ike and Paloma, as continuers of the devastating work – towards the rest of the territory.
These times are for me of self reaffirmation and have allowed me to give that help so many people needs. Therefore, I decided to found the brigade, for our artists to carry the best of their work to the damaged communities, expressed.
We artist – continued Kcho – move ideas and that is a great responsibility, but we also must be part of that collective sacrifice to restore what has been lost.
The same horizontality we found in the marine landscapes of Kcho, show up bright in the verticality of his positions and in that human deepness made him recently to deserve the Dignity Award given by the Asociation of Cuban Journalists (UPEC, after its initials in Spanish).
The answer of our artists was as fast as the speed of wind and they travelled the heart of the hit nation and showed that everything can be destroyed, but culture, because it is in the soul of the people, said Tubal Páez, president of the UPEC, giving the medal to the brigade.
Cuban artists are, since then taking part permanently in the recovery works, not only giving their creative talent, but also together with the victims in the cleaning and reconstruction tasks of the community, said Kcho.
The Cubans – ended – do not need to wait for hurricanes for the art to reaches their hands, Therefore, was also created the Victoria Mission, which with the help of all artists, will keep alive the brigades, living to the communities the best of the national culture.
(Cubarte)
---
Related News
---