A project dedicated to the 85 anniversary of the birth date of the cuban painter Servando Cabrera
Submitted by: admin

01 / 08 / 2009
---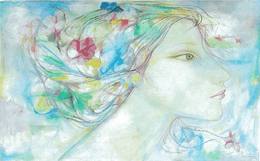 It is called Erótica: Sexualidad y erotismo en el arte and it links for the first time collections fro the classic ages, pre Colombian art and European and Cuban art. Without discriminating any tendency it pretends to break perceptions and prejudices about the topic, as well as give information about important aspects of the represented cultures.
The opening of this important exhibition was distinguished with the performance of the Dance Company Teatro Retazos, directed by Isabel Bustos.
Dancers of the known group recreated works, authors and feelings in a beautiful dialogue between music and body made to the service of the plastic arts. It was, undoubtedly, a memorable day that gave space to an unusual exhibition.
About a hundred representative pieces of the genre made this exhibition. The works come from collections from the National Museum of Fine Arts, Foundation Antonio Núñez Jiménez of Nature and Men, La Acacia Gallery as well as from invited artists.
Thanks to the collaboration made by National Centre of Sexual Education (CENESEX, after its initials in Spanish), it is also possible a wide specialized program that includes conferences with specialists from diverse disciplines, exhibitions of audio visuals materials, as well as other cultural activities. The exhibition will be closed the 28 of January.
Para algunos será una exhibición inquietante; quizás otros la consideren atrevida. A todos responde, For some people it Hill be a disturbing exhibition, some other might find it daring. Moraima Clavijo, director of the MNBA, answers to everybody in her presentation speech:
"Eroticism and sexuality are inherent to the human being and the exhibition we are offering today to the consideration of our public is about recreating this facet of life. We wish you to enjoy this exhibition without any prejudices, with the conviction that art, if it is true art, it is capable of sublimate what it is apparently trivial or even obscene. If it does no happens so, it would not be art".
(Boletín Bellas Artes)           
---
Related News
---