Cuban Monument Honors Omar Torrijos
Submitted by: admin

01 / 06 / 2009
---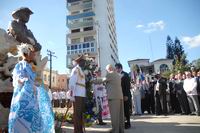 The work by Cuban Andres Gonzalez was placed on one of the main avenues of the capital, and unveiling it reaffirmed the friendship and solidarity between both nations.
Torrijos was accompanied by first Cuban Vicepresident Jose Rramon Machado Ventura, Minister Council Vicepresident Ricardo Cabrisas, Foreign Minister Felipe Perez Roque, Director of the Program about Marti"s live and work Armando Hart, and Culture Minister Abel Prieto.
Havana"s historian Eusebio Leal said in his speech that Omar Torrijos has the strange privilege of appearing now, seeing continuity of his struggle by those who defend his ideas.
Torrijos evoked the Panamanian youth"s combat for sovereignty over the Canal, and highlighted the late president"s bravery in the crusade for such cause, the most truly embraced by his people.
Omar Torrijos was the architect of the Treaty that made that hope come true and he always spoke in the name of the poor of his country, Leal said.
Adolfo Ahumanda, close collaborator of the Panamanian leader, recalled that Torrijos ignored warnings and threats by the United States to avoid reestablishment of relations with Cuba, broken by previous governments after expulsion of the island from the OAS.
He had received a letter from the US State Secretary, saying that Panama should face the consequences of reestablishing relations with Cuba, but he decided to do it in a sovereign gesture, Ahumanda said.
He emphasized that the monument unveiled is a permanent reflect of the existing relations between both countries.
In brief statements at the end of the meeting, President Martin Torrijos remarked his emotion due to the homage paid and highlighted the solidarity that Panama has received from the Cuban people and government.
(PL)
---
Related News
---