Scorpion Poison Used in Cuba for Treatment of Cancer
Submitted by: admin

12 / 21 / 2008
---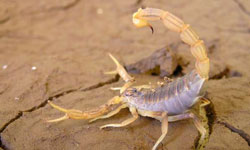 For the first time in Cuba, scientists are using a natural medicine derived from scorpion toxin for the treatment of cancer.
The initiative is part of a national project led by the Pharmaceutical Biological Labs (Labiofam) that seeks to demonstrate the effect of the red scorpion's poison against tumours. The study is the only one being made in the world and it has shown positive results so far, according to Fabio Linares, head of the Homeopathy Department in the province.
Linares told ACN that the permission to produce the medicine and to apply it on a small group of patients was requested last year, 2007. He said the effectiveness of the homeopathic technique lies in the minimum percentage of the active ingredient used in the preparation. More than 20,000 bottles can be prepared with only one drop, said the expert.
In the patients treated with the medicine, the inflammation and pain produced by the action of cancer cells was reduced which in turn improved the quality of life of those cases.
The results achieved so far are very similar to those obtained with the use of dissolved poison, which demands a greater amount of raw material for its production.
For more than three years, a team of doctors and health technicians from Cienfuegos, located more than 260 km east of Havana, have been working on anti-carcinogenic remedies based on studies by Cuban biologist Misael Bordier Chibas about scorpion toxins.
(Juventud Rebelde)
---
Related News
---