20 M Barrels of Oil Processed at Renovated Cuban Refinery
Submitted by: admin

12 / 13 / 2008
---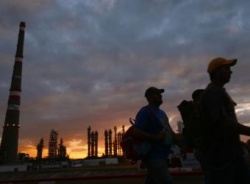 The Camilo Cienfuegos Oil Refinery will have processed 20 million barrels of crude oil by the end of this month, said Deputy Director Raul Perez de Prado.
The Cuban manager of this joint venture with Venezuela added that this would surpass by two percent the projected plan, set at 19.4 million barrels.
Throughout virtually all of its first year, the plant has exceeded projections—in some months by as much as four percent.
Since its opening on December 21, 2007, 198 vessels have operated in its bay, 54 of them transporting crude. Over the coming days, tankers will be arriving with the black gold that will attain the planned processing goals.
To date, an additional 1.5 million cubic meters of fuel oil were processed at the plant, along with 640 million cubic meters of diesel; 470,000 cubic meters of gasoline; 250,000 cubic meters of A-1 turbo jet (aviation fuel) and 38,000 cubic meters of liquefied gas.
During the expansion phase of the refinery, 150,000 barrels of oil per day will be processed, representing an increase by more than twice its current capacity of 65,000 barrels per day, which in practice has on several occasions reached 75,000 barrels processed daily.
Among the future goals is the production of raw materials for petrochemical refining.
The fuel supply is a mixture of crude (Mesa 30/Merey 16) from Venezuela, as part of this integration initiative set out in agreements of the Bolivarian Alternative for the Americas between Cuba's CUPET oil company and Venezuela's PDVSA.
Among the immediate plans is the $8.3 million revival of diesel processing facilities with equipment to improve the quality of that product, as well as the assembly of a liquefied natural gas plant.
Source: Juventud Rebelde
---
Related News
---