Bolivian president Evo Morales and Cuban Culture minister Abel Prieto met
Submitted by: admin

12 / 04 / 2008
---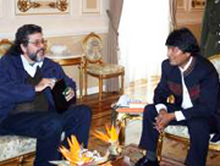 Prieto arrived in La Paz accompanied by journalist Katiuska Blanco to present the book "Peace in Bolivia", wrote by the leader of the Cuban Revolution, Fidel Castro, to whom Morales conveyed warm salutations.
During the meeting, both Morales and Prieto noted the excellent work by Cuban and Venezuelan teachers and activists, who have made it possible for Bolivia to be declared an Illiteracy-free Territory on December 20.
Morales expressed interest in Cuba´s recovery from the havoc caused by hurricanes Gustav, Ike and Paloma, and explained Bolivia´s stance to mitigate the negative effects of climate change.
The Bolivian Head of State told his visitors, including Cuban ambassador Rafael Daussa, that he had sent a letter to the participants in the Climate Summit being held in the Poland city of Poznan.
According to the president, tools are needed to guarantee an environmentally-friendly development model and to reduce poverty.
For his part, the Cuban minister noted the qualities of Fidel Castro´s book, which is an indispensable reference for authentic leftwing intellectuals and social movements in Latin America and other regions.
(Cubarte)
---
Related News
---