Scorpion Farming Multiplies in Cuba
Submitted by: admin

11 / 19 / 2008
---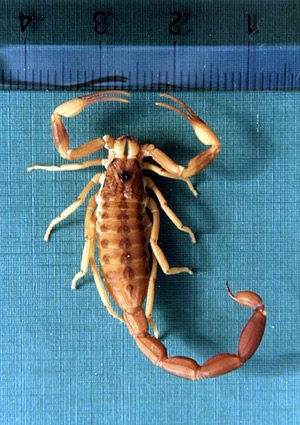 The Head of the Department of Homeopathy and Scorpions in the province Fabio Linares Pazos told AIN (National News Agency in Cuba) that at the moment Cuban scientists are the only ones who use the venom for therapeutic aims to treat cancer, since in other parts of the world it is used in the elaboration of antidotes.
The center, part of the Pharmaceutical Biological Laboratories (Labiofam), counts with 4,000 animals, eight times the number used at beginnings of 2008.
Linares assured that the increase in number of this specimen takes place due to the ideal conditions of humidity of the environment where they are placed, at Raul Dorticos Torrado Faculty of Medical Sciences.
He added that this increase is very important for the accomplishment of the research, since it provides the lab with greater volumes of venom, the active principle of the anti-carcinogenic medicine.
The blue scorpion is found inhabiting the entire Cuban archipelago including the adjacent keys. It is not an urban species, meaning that it does not inhabit with human beings in the city.
It is the largest of all the Cuban scorpions. It can only compare in size with the Centruroides gracilis species but both are clearly anatomically distinguishable. The blue scorpion Rhopalurus junceus has only one large sting in its tail while the Centruroides gracilis has two: a big and a smaller one.
(PL)
---
Related News
---