Bolivian President Evo Morales Extols Cuban Revolution´s 50th Anniversary
Submitted by: admin

11 / 17 / 2008
---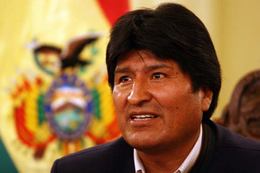 Morales presided over the ceremony of declaring Cochabamba department (center) as territory free of illiteracy, fourth in its kind to achieve that goal, after Oruro (March 13), Santa Cruz (October 7) and Pando (October 11).
The head of State incentivated local and national authorities to travel to Havana next January 1, covering their expenses, to join festivities for the 50th anniversary, as part of the delegation he will lead.
This can be another way to thank continental and world leaders like Fidel Castro and Hugo Chavez of Venezuela for this selfless cooperation which will enable us by next December 20 to become in the third Latin American country free of illiterates.
Morales recalled that also in 1952, Bolivian people and its social organizations marched with rifles on their shoulders for social demands, like the access to education and to be owners of their natural resources.
The literacy campaign, a State priority for the first time, is a consequence of those struggles.
The president explained the campaign titled "Yes, I can" is a vital elemento f the democratic and cultural revolution which cannot be reversed.
In the ceremony, Cuban ambassador to Bolivia, Rafael Dausa, thanked for the possibility that co-operators from his country and Venezuela have to contribute in a modest way to the current process of change.
Bolivia already exceeds the 800 thousand adults over 15 years of age who learned to read and write thanks to the Cuban audiovisual method, "Yes, I can."
According to official statistics, until this date, 800 thousand 194 persons, mostly women, have graduated, that is 97.2 percent of the plan.
Also with the aid of Cuba and Venezuela, more than 8,400 solar panels have been installed, allowing to take electric energy to the same number of communities.
An important link of the literacy campaign is the education in native languages, making it posible for 13,132 Bolivians to access reading and writing in Quechua and 22,793 to do so in Aymara.
(PL)
---
Related News
---