Cuban First Vice President Meets Evacuees from Area Hit by Hurricane Paloma
Submitted by: admin

11 / 11 / 2008
---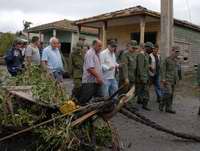 An estimated 400 homes were totally destroyed in La Playa by the storm, which hiot this area as a category 3 with maximum winds of 240 kms/h.
Julio Cesar Garcia, president of the Camaguey's Civil Defense Council, recalled that exactly 76 years earlier another hurricane hit Santa Cruz leaving more than 3,000 dead. He asked for a minute of silence on their behalf.
Machado Ventura spoke to the evacuees about the magnitude of the damage across the country from recent hurricanes Gustav and Ike. He also said an analysis should be made on whether the coastal neighborhoods and towns should be rebuilt further inland, since the effects of climate change are expected to continue.
Earlier in the day when he visited Santa Cruz del Sur, Machado Ventura said that solutions will be found for those who lost their homes to Hurricane Paloma. Amid the devastating panorama, Machado noted that not one human life was lost during the storm.
Machado Ventura pointed to the difference from November 9, 1932, when the government at the time didn't bother to evacuate the population. This time more than 3,000 residents were taken to shelters in Camaguey and many others went to homes of friends and relatives farther inland.
(ACN)
---
Related News
---