Lula discusses economic crisis with 'lucid' Fidel Castro
Submitted by: admin

11 / 01 / 2008
---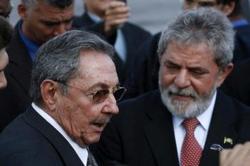 "I spoke with Fidel about the crisis and there is 100 percent agreement on the major responsibility of rich countries," Lula said at the airport before leaving Cuba after a brief visit on Friday.
"President Lula said that Fidel was very lucid and active," added a spokesman traveling with the Brazilian leader.
The meeting took place in an undisclosed location. The ailing 82-year-old Communist revolutionary leader has not been seen in public since a health crisis in July 2006.
Lula said earlier that Cuban President Raul Castro will attend a summit in Brazil in December, marking the Cuban leader's first international trip since taking over from his brother Fidel two years ago.
"We are pleased to learn that finally his excellency will travel to Brazil to participate in the first meeting of Latin American and Caribbean nations, without interference from any other power," Lula said during an inauguration ceremony for a Brazilian business venture in Havana.
If the visit is confirmed by Havana, it would mark the first foray outside the island nation by Castro, 77, since taking the reins of power from Fidel Castro in July 2006 when the elder leader underwent intestinal surgery.
The Brazilian president arrived in Cuba on Thursday and held talks with Raul Castro, to whom he "renewed the invitation" to visit Brazil and help with the first-ever integration and development summit for Latin America and the Caribbean on December 16 and 17 near Salvador de Bahia, according to an official statement.
The text hailed the "positive developments in bilateral relations" in several fields as well as a sharing of mutual regional and multilateral interests.
Economic and commercial ties between the two countries were given a boost with Lula's first visit this year to Cuba, in January, and when a senior official visited in May to firm up 10 business agreements.
According to official Cuban figures, bilateral trade rose to 450 million dollars in 2007, making Brazil Cuba's second largest trading partner in South America after Venezuela.
(AFP)
---
Related News
---