Bridge for the Cuban Five
Submitted by: admin

10 / 19 / 2008
---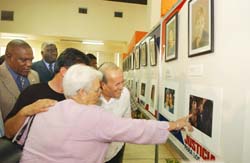 With the photographs sent by Hackwell to Florence Penitentiary in Denver, Colorado, Guerrero drew 37 portraits include Mirtha (his mother), Fidel Castro, and the mother of the pilot who died in the sabotage of the Cubana Airlines passenger plane in 1976.
According to Hackwell, present at the opening, the show is dedicated to the struggle to obtain freedom for the Cuban Five. He explained that the artistic project took a year to become reality and that during four of those twelve months Antonio was in solitary. "They didn't permit communication by telephone, everything was by e-mail. One of those days in which I had doubts of whether the project would be possible, I received a message that said: 'Don't worry about me; I'm drawing every day,'" said Hackwell.
The photographer said that Guerrero insists on maintaining the project and wants to include more people who, as the first 37 and 1000s of others, are struggling for the Cuban Five's freedom. Hackwell said that he longs to take a final photo of the Cuban Five walking out of the prisons.
Present at the opening ceremony for the exhibition was Ricardo Alarcon, president of the Cuban parliament, who criticized the decision of the 11th Circuit Court of Appeals of Atlanta, sustaining the Cuban Five's convictions. He alerted that "they can't maintain the Five in prison forever and we are going to bring about their return," he said.
The son of Antonio Guerrero read a message from his father to Cubans at the opening.
Yoel Queipo, member of the leadership of the Young Communist League (UJC), announced that the exposition would travel the entire country as a tribute to Antonio, Fernando, Gerardo, Ramon y Rene.
Also present was Fernando Remirez, member of the Communist Party Central Committee Secretariat, a delegation form Botswana that is visiting the country; Eugenio Ravinet, general secretary of the Ibero-American Youth Organization and other relatives of the Cuban Five.
(www.granma.co.cu)           
---
Related News
---