Latin Legislators Seek Greater Regional Integration are meeting in Havana
Submitted by: admin

10 / 17 / 2008
---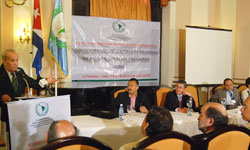 Legislator who are members of the Latin American Parliament (Parlatino) are meeting in Havana to discuss continental integration as alternative for development.
The conference, designated "International Achievements and Challenges of the Bolivarian Alternative for the Peoples of 'Our America' (ALBA)," will run until Thursday with the participation of approximately 50 legislators from the region.
At the opening of the meeting, Cuban parliament President Ricardo Alarcón highlighted the importance of finding an alternative to integration in the face of the neo-liberal pattern now in full-blown crisis.
Senator Jorge Pizarro, Parlatino's president, pointed to ALBA, which was born as an alternative to US-proposed Free Trade Area of the Americas agreements. He noted that the alternative integration model —with its current membership of Venezuela, Cuba, Bolivia, the Dominican Republic and Honduras—has always placed an emphasis on the struggle against poverty and social exclusion, which have also been the objectives of Parlatino since its founding in 1964.
"That idea —which was the dream Bolívar, Miranda and Martí— finds its foundation in specific positions regarding energy self-sufficiency, on how to face the tremendous social liabilities of our region in terms of health and education, and in looking for paths to financing through institutions such as the Bank of the South," said Amílcar Figueroa. The Parlatino president also urged and end to the economic blockade imposed by United States against Cuba for almost 50 years.
Senator Carlos Sotelo called for the release of the Cuban Five, who are serving long unjust prison terms in the United States for defending the island against terrorism.
(Juventud Rebelde)
---
Related News
---