Cuban actor Jorge Perugorría announced a art expo-sale in Mexico to aid cuban city
Submitted by: admin

10 / 03 / 2008
---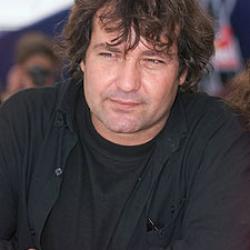 Gibara is the headquarters of the International Poor Cinema Film Festival, founded in 2003 by filmmaker Humberto Solas (recently deceased). As of 2009, the Fest will be named after the director of Lucia and other classic films of Cuban cinema.
The website www.arteporcuba.com in which painters all over the world will be able to respond to the call promoted by the Cuban actor, also an artist, will also be launched at the exhibition. Perugorria summoned his colleagues to donate works to contribute to the recovery of the also known as White Village, devastated by hurricane Ike at the beginning of September.
Until this date over 60 artists from the United States, El Salvador, Spain, Mexico and Venezuela have answered the Cuban artist´s call, who gladly welcomed the project.
There are two very important reasons, explained the actor, one is the disaster inflicted by the meteorological event that severely hit that beautiful town.
Artists of the island have given an outstanding response, among them Marco Antonio Castillo Valdes and Dagoberto Rodríguez (Los Carpinteros), Sandra Ramos, Carlos Quintana, Reinerio Tamayo, Flavio Garciandía, Eduardo Roca (Choco), he added.
With the opening of the website, Perugorria expects many more artists will join this project, above all outside Cuba.
(PL)
---
Related News
---