President of the Cuban ParliamenIt, said: "Is Only Possible to Fight United"
Submitted by: admin

09 / 26 / 2008
---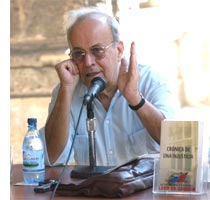 Cuban Parliament President Ricardo Alarcón urged people to build greater unity in efforts and struggles for a better world, saying that only in this way can it be achieved.
His speech opened the presentations and discussion of one of the plenary sessions of the seventh ALBA Social Summit for the Latin American and Caribbean Union, a conference which analyzed the important issues of the changing regional situation. Meeting took taking place at various sites in Venezuela, in addition to the capital.
In his presentation titled "Terrorism as a crucial problem for peace and sustainable world development," Alarcón highlighted the need for people to know the problems that we face in order to strengthen solidarity and to better combine efforts.
"This," he alerted, "is indispensable in the face of the obstacles that we have and the powerful opponents that we confront," among those being the corporate media, which he described as manipulators of the truth.
Also at the conference was Cuban Osvaldo Martínez, a member of the Commission on Economic Affairs of the Cuban Parliament; Irma Sehwerert, the mother of René González; and Aylín Labañino, the daughter of Ramón Labañino.
The president of the National Assembly dedicated good part of his presentation to update attendees about the latest fallacies of the American injustice system concerning the five Cuban anti-terrorists fighters.
"Within this framework, nothing is so illustrative of the resistance and value of our compatriots in the face of injustice as the recent letter by Gerardo directed to those around the entire world who are fighting for the release of the Cuban Five," read Alarcón at the plenary session.
The letter also highlighted the importance of solidarity in overcoming the lies in this legal case, which has been transformed into a political vendetta against Cuba's revolution and its people.
"Our hope," Gerardo affirms in the letter, "will not be found in any court; our hope is you."
The double standards of the United States government were also denounced by the head of the Cuban Parliament when commenting on Bush's speech at the UN General Assembly, where the American leader repeated the same lies preached in 2001 after the attacks on the Twin Towers.
According to the US leader, to take terrorists before the tribunals is the best form of fighting terrorism, pointed out Alarcón, who added with satire, "I thought that Posada Carriles would be a correspondent in Caracas."
Next day concluded the summit discussions in which participated deputies of Parlatino, who are noted intellectuals of the region and members of social and popular movements in Latin Americans and the Caribbean.
(Juventud Rebelde)
---
Related News
---