Chavez says met with 'strong' Fidel in Cuba
Submitted by: admin

09 / 23 / 2008
---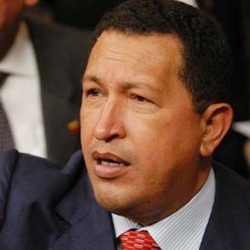 "We stopped in Havana first and I talked with Fidel for a while, a good while. Fidel is strong, you know," Chavez told journalists at the start of a visit to China, his second stop on a world tour that began in the island nation. "We walked...we analysed the situation in the world, in Latin America. And the situation in the United States, which is so terrible not only for their people but for the whole world -- the collapse of the international financial system."
After almost two years behind the scenes due to health problems, Castro has re-emerged this summer with several high-level meetings and a spate of newspaper columns.
Although he no longer rules the Caribbean island as he did for almost 50 years, the 82-year-old still has the ear of the new president -- his younger brother Raul -- and is using a newfound career as a newspaper columnist to make his views known.
The burly Chavez is a close ally of both Castro and Cuba. A fiery leftist who shares his bearded mentor's loathing of the U.S. "empire" and taste for combative rhetoric, Chavez calls Castro his father and often flies to visit him.
He offered Cuba aid to help deal with the devastating impact of two massive hurricanes, which caused $5 billion in damage; 200,000 people were unable to immediately return to their homes and 30 percent of Cuba's agriculture was destroyed.
(Reuters)
---
Related News
---