Cuba Parliament President Ricardo Alarcon in Venezuela
Submitted by: admin

09 / 23 / 2008
---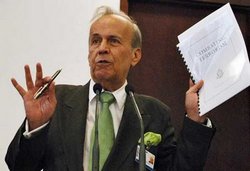 The President of the Venezuelan chapter of the Latin-American Parliament, Victor Chirinos, highlighted the presence of the Cuban political leader along with other 100 international guests invited to the Seventh Social Summit for Latin America and the Caribbean Integration.
Chirinos told Prensa Latina that Alarcon's speech about terrorism, imperialism and international reaction is one of the main themes of this meeting that will take place between the 24th and the 27th of this month with the participation of social movements, scientists, parliamentarians, politicians and other experts.
The summit will have the participation of delegates from various continents and should also give a strong support to the cause of the five Cuban serving unjust jail sentences in the US, said Chirinos.
Known as the Cuban five, Gerardo Hernandez, Ramon Labanino, Fernando Gonzáalez, Antonio Guerrero and Rene Gonzalez were gathering information about terrorists activities conceived by anti-Cuban groups in South Florida.
He also added that during Alarcon's visit the University of the Armed Forces will give the Honoris Causa title to the Cuban five in Coro, capital of the state of Falcon.
In the opinion of the legislator, the presence of Alarcon will also contribute to strengthen the bilateral ties.
(Escambray.cu)
---
Related News
---