Fidel Castro Sent a Letter to Hugo Chavez
Submitted by: admin

09 / 16 / 2008
---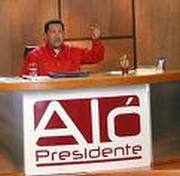 In his letter, Fidel told Chavez that "they [the plotters] might as well care for you if they really believe that Socialism is a failure that splits the leaders from their people, when in fact Socialism is the only way, the only way to life, to homeland."
In the letter read by Hugo Chavez during his TV show, the Cuban Revolution leader also referred to the exposed plot to carry out a coup in Caracas and assassin Chavez, with the participation of army officers, some of them retired.
Chavez, who accused Washington of being behind the plot, said that silence and the attempts to justify his killing reveal the complicity by opposition Venezuelan sectors. He said that three days after the recorded voices of the plotters were published new elements keep appearing; however, the opposition says no word or tries to disregard the denunciation.
In his TV show, beamed from the locality of Barcelona, 320 km southeast of Caracas, Chavez said that some opposition columnists considered in the El Universal daily that it was logical that some radical sectors wanted to blow up the president. He recalled that similar words they said prior to the April 2002 coup in an effort to justify the assassination of the president in advance. "It is the logics of terror, of fascism; they do not care about the killing of 100, 000 peoople," Chavez said.
In previous public appearances Hugo Chavez said that behind the plot were Washington's hands against Bolivia, Nicaragua, Honduras, Cuba, Paraguay and Argentina. We can not underestimate the internal and external enemies, while fascist currents within the Venezuelan opposition try to set this city on fire; we will not allow to do so," said Chavez.     
(www.cubanews.ain.cu)
---
Related News
---