Hurricane Gustav kills 11 in Haiti, heads toward Cuba, Gulf
Submitted by: admin

08 / 27 / 2008
---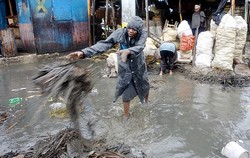 Hurricane Gustav triggered flooding and landslides that killed at least 11 people before weakening to a tropical storm, but forecasters said Wednesday it's still a major threat to the Caribbean and the Gulf of Mexico.

Forecasts suggested it could head toward the U.S. Gulf Coast as a dangerous Category 3 hurricane next week. The tentative forecast track pointed toward Louisiana, but forecasters said it might hit anywhere from south Texas to the Florida panhandle if it continues to develop.

That could mean higher gasoline prices for drivers in many countries. Global oil prices rose by US$1.40 early Wednesday to above US$117 a barrel on concerns the storm could disrupt output in the Gulf of Mexico, home to a quarter of U.S. crude production.

Royal Dutch Shell PLC said it could begin evacuating workers as soon as Wednesday.

Gustav's maximum sustained winds were near 60 mph (95 kph) Wednesday morning, with higher gusts. The storm was centered about 90 miles (150 kilometers) west of Port-au-Prince and was moving toward the northwest at 5 mph (7 kph). It was expected to continue moving toward the west-northwest.

A hurricane warning was in effect for parts of Cuba. In the U.S. military base at Guantanamo Bay, troops were enjoying a breezy day after Gustav slowed and was downgraded into a tropical storm.

"It's not raining. There are light breezes. Basically were all in standby," base spokesman Bruce Lloyd said by phone Wednesday morning. "But my instinct is it will be a really wet night."

Authorities said eight people died Wednesday in the Dominican Republic in a landslide triggered by Gustav.

"They were all members of a family who had taken shelter since Tropical Storm Fay and left to go home because they thought the danger had passed," said civil defense agency director Luis Luna Paulino. The dead included a 2-year-old and a 7-month-old.

Gustav also dumped torrential rains on southern Haiti, which is prone to devastating floods because its mountainous terrain has been stripped of trees for farming and charcoal.

At least three people have been confirmed dead in Haiti, including a young girl swept off a bridge by flood waters and a man killed in a landslide, said civil protection director Marie Alta Jean-Baptiste. Details of the third death were not immediately available.

Authorities said thousands were evacuated or fled their homes in the Dominican Republic and hundreds did so in Haiti.

Flooding also was reported near the southern Haitian city of Jacmel, where Gustav roared ashore Tuesday afternoon with top sustained winds near 90 mph (145 kph). Rising waters surrounded palm trees that had been toppled by the storm and reached the city's trademark Victorian-style wooden buildings.

Flooding was also reported in coastal Les Cayes, where demonstrators ignored government warnings to seek shelter and threw rocks on Tuesday to protest the high cost of living in the Western Hemisphere's poorest country. Witnesses said U.N. peacekeepers used tear gas to disperse the crowd.

Haiti has been hit hard by the global spike in food prices, sparking deadly riots in April. It was not yet possible to ascertain the extent of damage from the hurricane to the nation's crops on because of the country's poor infrastructure and communications.

Forecasters said Gustav could become a Category 2 hurricane with winds topping 96 mph (154 kph) Thursday as it moves between Cuba and Jamaica. The long-term forecast projected winds of 120 mph (190 kph) by the weekend.

Thunderstorms associated with Gustav were already bringing downpours to some parts of eastern Cuba, prompting officials in Holguin province to evacuate people from some low-lying areas. Fidel Castro issued an essay that mentioned the hurricane, saying Cuba's government "guarantees no one will be forgotten.

The price of light, sweet crude for October delivery rose Tuesday to US$1.16, settling at US$116.27 a barrel on the New York Mercantile Exchange.

If the storm continues on its path, it could drive up U.S. gasoline prices by 10 cents a gallon ahead of Labor Day weekend, predicted James Cordier, president of Tampa, Florida-based Liberty.
(AP)
---
Related News
---