In the Contemporary Art Museum of Monterrey with pieces by cuban master Wifredo Lam.
Submitted by: admin

08 / 19 / 2008
---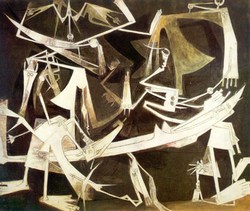 The National Fine Arts Museum of Cuba presents the exhibition that has been curate by two experts, the Cuban Roberto Cobas Amate and the Mexican Jorge Contreras. The exhibition includes 87 pieces made with different techniques such as oil paintings, lithography, gouache, carbon, ink, tempera and pastel.
"The intention of the exhibition is to go over the whole life and trajectory of master Wifredo Lam," it is stated by the organizers of this exhibition of one of the greatest persons in surrealism that present a panorama for the development of the career of the artist.
This is the start of the visual tour around the production of the twenties, when master Lam lived in Spain and in the Museum of Prado he would discover the magic of the great people in visual arts within its classical collection.
Among the most important pieces of his creation and which will be represented in the MARCO there is El tercer mundo (The third world), which is together with La jungle (The jungle)(image) one of the best known pieces done by Wifredo Lam and which had never gone out of Cuba except for one occasion when it was exhibited in the Reina Sofía Museum in Spain.
This master piece resumes the mixture of its roots and expresses iots dialogue with Afro-Cuban cultures. "Geometry might be one of the most especial characteristics of master Lam, who defines very well an image, triangles, circles, rectangles, very simple drawings with an amazing economy of resources. This are very simple drawings that define a perfect mage," pointed out the Mexican curator Jorge Contreras.
The magical presence of religion, the dynamic substance of trans-culture is revealed in the most fruitful period of the creator, after his re-encounters in Haiti with André Bretón.
El tercer mundo is a big size piece that reveals us the sight of the creator as he caught the complexities and contradictions of our America , especially from the oneiric Caribbean world, in his painting.
(www.cubasi.cu)     
---
Related News
---