Marcelino Guerra, an outstanding personality of the Cuban music
Submitted by: admin

07 / 25 / 2008
---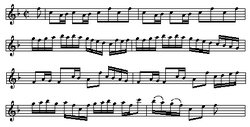 This year, the tribute will be given to Marcelino Guerra (Rapindey), an important composer, vocalist  and guitarist considered by music critics and researches as a relevant figure of the Cuban musical pantheon during the 20 Century.
Marcelino Guerra was born in Cienfuegos on April 26, 1914 and lived there great part of his childhood and adolescence although his artist work was developed in the Cuban capital and abroad.
His biographers assure that his nickname Rapindey was given due to his speed when he went out on errands for middle class people to earn some money.
The agility of the little boy Guerra was not only showed running errands but also in the music.  When he was six years old he played the guitar and took his first steps in composition through some child refrains that later he added to his popular compositions like the anthological works "Pare cochero"  (made together with Miguel Ángel Banguela) and Me voy pa´l pueblo.  
He came to Havana in 1931 when he was almost 18 years old.  The nasal tone of his voice called the attention of some directors of musical bands that called him to use him as second part and according to specialists he was one of the best singers in this modality.  
He took part of the Havana septet and the National septet of Ignacio Piñeiro as well as Arsenio Rodriguez group and the trio Oriental, the Mozo Borgella sextet among other musical groups like the Hatuey quartet.  
In this last musical group Rapindey he worked together with three patriarchs of the national music like:  Compay Segundo, Evelio Machín and Lorenzo Hierrezuelo.
He made his first recordings in the thirties when he began his writer consortium with Julio Blanco Leonard and they formed an exceptional pair for the composition of unforgettable works such as "Buscando la melodía" and " La clave misteriosa".  
In the forties he took part of Cuban music orchestras in the United States where he worked together with Machito being a second part or as guitarist.  However, those musical groups added some of his works.  
Regarding composition, Marcelino Guerra created boleros that showed all passion, feelings and anguish that liked to the public at that time.  
The author of works like the anthological bolero " Fuiste cruel"  or the famous " Un lamento en las tinieblas" or " Qué me haces mal"  had among its singers important artits like Benny Moré, Dizzie Gillespie, Chano Pozo or Tito Puente,  to quote just a few examples of those outstanding personalities inspired in his works . Marcelino Guerra left music in the sixties and went to Spain where he died on July 30, 1996.
(Cubaheadlines)
---
Related News
---