Alexis Leiva Machado (Kcho) to hand in an engraving workshop to Art Instructor School from Matanzas
Submitted by: admin

06 / 26 / 2008
---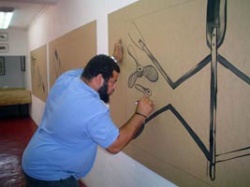 In the opening act, there were Kcho himself, the vice-ministers for culture Rafael Bernal and Vivian Velunza, Carmen Rosa Báez, director of the Art Instructor Program in the country and authorities from the province.
"Work is not enough for an artist –said Kcho when he talked to those present. I have understood that the role of the creator in a society like Cuban, a very humane society, is to share the lights that life has given you."
"This small space has to become a magnet of creativity so that the best of the artistic talent may come to the School and learn, and then they may share with others what they have learned."
According to Carmen Rosa Báez, Fidel created the Art Instructor Program not like a pre-designed structure but for it to become better with time. There is no greater gift for the Commander than to enrich his work, he decalred.
Representing the students, Eliezer Niev;a, a second year student from plastic art specialty, thanked the opportunity to have this workshop that has been allegorically called Río Yumurí.
(www.giron.co.cu)
---
Related News
---