Brazilian writer and Dominican Monk Frei Betto expressed: 'Che and the Cuban Revolution Will Live Forever'
Submitted by: admin

06 / 14 / 2008
---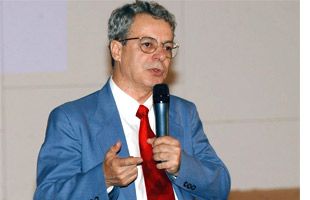 In statements to the Cuban website www.che80.co.cu, dedicated to Che's 80th birthday anniversary, Betto, who is one of the most prestigious figures of liberation theology, said that the enemy must be pulling out their hair, realizing that Che is more popular today than when they killed him and tried to erase his ideals.

He recalled how Che's enemies tried hard to consign the legendary guerrilla leader to oblivion, even resorting to the mutilation of Che's dead body. 'However,' said Betto, 'Che rose like a phoenix from the ashes, coming alive again in pictures, songs, theatre presentations, films, novels, sculptures and academic texts.'

'Chains can not hold down symbols, nor can bullets kill examples,' he stressed.

The author of more than 50 books of various literary genres and religious themes recalled that even at soccer tournaments, people carry banners and wear t-shirts with Che's image.

Later on, he affirmed that at the time the world celebrates the 80th birthday anniversary of a genuine revolutionary on June 14th, the eyes and hearts should be on permanent alert in light of the alarming world situation, where neo-liberal hegemony dominates.

'Many people, mostly youth, are driven to individualism instead of community efforts, competition instead of solidarity, disproportionate ambition instead of a common struggle to eradicate poverty,' said the Dominican Monk.

He said that the enemies of Che and the Cuban Revolution speak all the time about the failure of socialism in Eastern Europe, but they never talk of the failure of capitalism for two-thirds of the world's population and the four billion people living today in abject poverty.
(Cubarte)

---
Related News
---