For the first time the Seville set by the Cuban painter Servando Cabrera to be exhibited
Submitted by: admin

05 / 25 / 2008
---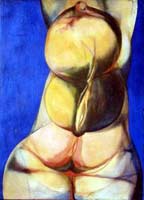 This is the start of the festivities organized by the Museum Library under his name from Havana and which with the opening of the exhibition Todos los recuerdos de Sevilla (All the memories from Seville).

Some of the paintings date from 1970, but Servando left the titles of all the pieces he planed to paint until the year 2012, the year in which he planned to die; commented Lourdes Álvarez, director from Villa Lita, as it is also known the house where the painter used to live.

She also advanced that in Todos los recuerdos de Sevilla, people may see all the love he felt for that Spanish city.

This is corroborated by posters and popular art objects from Seville that were part of the painters personal collection and which accompanies the set.

Together with the exhibition, another room from the Museum Library shows engravings, photographs and drawings made by brothers Carlos and Antonio Saura, which goes beyond the strong friendship that joined them to the Cuban creator.

A. Saura qualified the shapes of human stylization Cabrera achieved through his paintings as huge lying geological bodies.

There are bodies naked like mountains, as if nature was conceived like a giant, motherly and open body, bodies like never ending cosmic columns, stated the Spaniard.

During the 1950s, Servando Cabrera Moreno traveled a lot around Europe -especially Spain- and Latin America. These trips had a huge influence on his work of the time due to his relationship with the popular art from these regions.

He graduated in 1942 from the San Alejandro Academy, with the first place in the grade painting exams. Two years earlier he had participated in the XXII Fine Arts Salon, which constituted his first exhibition.

Until 1980 Servando participated in 109 collective exhibitions and made 20 personal exhibitions.


(Radio Musical Nacional)
---
Related News
---