Cuban intellectuals condemned in Havana campaign to boost separatism in Bolivia
Submitted by: admin

05 / 11 / 2008
---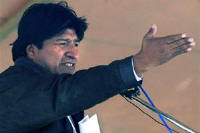 In a communiqué, the Cuban cultural institution Casa de las Américas rejected the stance of those media who presented as a victory the anti-constitutional referendum made past May 4 in Bolivia , in order to validate an autonomic stance for the department of Santa Cruz .
Also, more than ten thousand intellectuals and almost 300 organizations and institutions from all over the world denounced the conspiring maneuvers of groups from the oligarchy against the government of the president from Bolivia, Evo Morales.(
www.todosconbolivia.org
)
The 1980 Peace Nobel Prize, the Argentinean Adolfo Pérez Esquivel, qualified the anti-popular consultation of that department of Bolivia as a subtle attempt to a coup, aiming to make democracy in that country unstable and to generate a situation of facing each other off.
On the other hand, the Movimiento Ecuménico por los Derechos Humanos (Ecumenical Movement for Human Rights) from Argentina backed up the people and the government from that Andean nation, threatened by an oligarchic plot and imperialist interference.
The Frente Nacional por la Salud de los Pueblos del Ecuador (National Front for the Health of the People of Ecuador), the International Action Center from the United States, as well as the Asociación de Mujeres (Women's Association) from France and the Movimiento de Poetas del Mundo (Movement of Poets of the World) among many others also added themselves to this campaign in defense of humanity, distributed by the embassy of Bolivia at the UNO.
Meanwhile, the government of Bolivia is waiting for the second day on a row the answer of the nine civil governors of the departments on the call of the first leader of Bolivia to talk about the future of the country.
(RHC-PL)
---
Related News
---