Legendary Cuban Boxer (Retired) Félix Savón Recalls his Boxing Career through Painting
Submitted by: admin

05 / 07 / 2008
---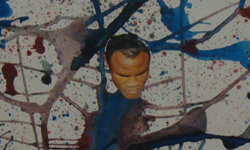 "When I was a boxer, people loved me. Since I stopped being one, Ive felt differently. Its not the same," said Savón.
It was nostalgia that caused this unbeatable heavyweight boxer to become a painter. This all began with some drawings of a family, pictures which he called Los humildes (The humble).
"But one of the drawings was damaged, and when I went to repair it people asked why I didnt paint. They said I might have the aptitude. So, since I always like painting, I thought I could do it.
"I belong to the Cuban Federation of Boxing, but I feel empty there because Im not useful. At the beginning, they convinced me with things that made me happy, but then I became disillusioned. In painting Ive found a way of venting myself, of fighting against the nostalgia that came when I retired from boxing," explained Savón, who now looks very different from the person we saw so many times by TV - as a boxer against the ropes.
As he became silent to take a breath, I looked hard at the paintings placed at random in the room where he keeps his trophies. They tell of his prize-winning life, going from the joy of entering the sports world for the first time "captured in a curious painting where he combined oil, plaster and paint" to the emptiness he went through after his retirement.
All together, it is a collection of 15 paintings, called Con sus propias manos (With his own hands), which were first shown almost a year ago in his hometown of Guantánamo.
"The paintings are characterized by their freshness and boldness. In some, such as La última pelea (The last fight), where he painted his face and then pressed it against the canvas, he uses very strong brushstrokes to highlight the most relevant lines. In this case, he highlights out the injuries he suffered to his face during his career. What is best is that each work expresses an idea, each of them say something," said art virtuoso Lázaro Valdés, who is a member of the Union of Writers and Artists of Cuba (UNEAC).
"I reflect how my life has changed. I paint for sports; I paint what I feel, how things happened. Thats why the name of the collections main painting is Libertad de expression (Freedom of speech). With it, I try to express that there is always something to say and we should not prevent ourselves from doing it," said Savón.
Present and future
As a diamond in the rough can be polished, Félix Savón tries to use his knowledge about art and learn painting techniques. In order to do this, he attends talks held at the Art Center of the municipality of Boyeros, and meets with specialists in the field.
"Félix wants to be recognized in the world of art like he was in boxing, for his qualities and effort. He is not trying to use his fame in sports to gain recognition in the cultural arena," pointed out Félix Amechazurra, Savóns representative.
But Félix Savóns artistic passion goes beyond art. Currently, a book and a documentary-film by him, which tell us the story of his life, are being reveiwed.
The book is planned to be officially launched at the 2008 Havana International Book Fair, and will be accompanied by a CD showing significant moments of Savóns life. The film, for its part, will feature lots of archival footage such as highlights from his big fights and interviews.
Félix Savón artistic work is surrealistic, as can be seen in the strong elements and vivid colors of paintings such as Puños de fuego, La cara oculta de la Luna, Manos prohibidas, Manos de campeones, Las huellas, or La última pelea.
He has received a great deal of criticism for his boldness, but he is philosophical about the negative comments on his art work, "People said that I wasnt very technical in boxing, but look where I got. Now I want to repeat the story. It is a matter of trusting in your punch. Nostalgia wont knock me out," Savón said and smiled.
(
www.juventudrebelde.co.cu
)
---
Related News
---