Apply New Corneal Transplant Technique Cuban Ophthalmologists
Submitted by: admin

04 / 26 / 2008
---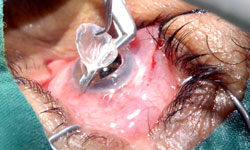 Recent advances in Cuban ophthalmology were discussed at a scientific conference held in Havana, celebrating the 20th anniversary of the Ocular Microsurgery Center.
At the conference, Dr. Marcelino Río, director of the Ramón Pando Ferrer Institute of Ophthalmology, said that Cuba has the most advance technology existing today in terms of ophthalmology, which has eliminated waiting lists for cornea transplants.
"This April, Cuba began to apply the endokeratoplasty technique for corneal transplants, a complex surgery that has been successfully carried out on twelve people who suffered from serious corneal dystrophies.
"For the first time, people suffering from retina diseases can be operated on here without travelling abroad. In 2007, we performed 1,100 vitreoretina surgeries, a technique we want to carry out throughout the country.
"We are expanding our capacities. Several centers for corneal transplant are being created in other provinces and there are devices such as the excimer laser, with which the nearsightedness, farsightedness and astigmatism are operated upon, not only in Havana, but also in the provinces of Matanzas, Sancti Spíritus, Cienfuegos and Camagüey.
"The same will happen with lasers for the retina. As we can have one in each province, especially for diabetic retinopathy, the number of people suffering from this condition that will not go blind will be great because we will be able to treat them before getting to that stage. There will come a time when instead of performing a thousand retina surgeries, we will perform just 200," he said.
The director of the Cuban Institute of Ophthalmology said that the center has gone from 12 surgery rooms to 34. and from 40 ophthalmologists to 100.
"The Ocular Microsurgery Center is part of the Institute, and during these 20 years, 204,000 patients have been operated there. The center was recently remodelled."
Río recalled when they were first asked, on July 9, 2004, to support Operation Miracle - a joint healthcare program between Cuba and Venezuela, set up in 2005, under which thousands of visually impaired people are receiving eye surgery for free in Cuba. That same year, 14,000 Venezuelans were operated on.
He added that "Today, thanks to the work of our specialist, there are more than 40 Cuban-sponsored ophthalmologic facilities in different countries including Venezuela, Bolivia, Ecuador, Guatemala, Honduras and Nicaragua."
(
www.juventudrebelde.co.cu
)
---
Related News
---