This year Cuba will make investments of more than six billion pesos
Submitted by: admin

04 / 01 / 2008
---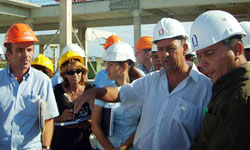 This year Cuba will make investments of more than six billion pesos, more than four times that made between 1995 and 1988, said vice-president of the Council of State Carlos Lage Dávila during a tour of several workplaces in four municipalities of Matanzas Province.
Lage Dávila said that the country is in a period in which it is making more and more investments, adding that the organization of that process in an efficient and swift manner is vital in executing that work.
"What one can see in a tour such as this one is that an investment process is underway that is much wider than that in previous years; this is of great importance for the economy and for the publics well being," he noted.
"We can lower the costs and shorten the time. We can do everything we are doing with much less, which means we can do more - expand our plans for publics benefit. Today we have been able to see more than one example of how greater productivity is being reached through genetic engineering at a livestock-breeding firm in Matanzas."
At the Livestock Genetics Firm of Matanzas, the vice president demonstrated his interest in how the feeding of cows can increase the production of milk, which has become more expensive on the international market.
Lage, accompanied by provincial party leader Pedro Betancourt García, also received detailed information from MINAZ authorities in connection with cattle production and the current state of the sugar harvest. Likewise, he learned about the potato crop, the progress with plans for the construction of homes and investments in the water supply in the province, among other high priority tasks.
(
www.juventudrebelde.co.cu
)
---
Related News
---