Leave Their Hearts in Cuba Argentine Rockers
Submitted by: admin

03 / 21 / 2008
---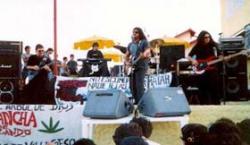 From Argentina, Tano, the bands drummer, told Granma newspaper by e-mail: "Well present the best concerts of our lives and will leave our hearts in each of them!" Thats our intention, to celebrate this communion between the two cultures by means of the universal language of rock."
The tour begins on Friday, March 21, at Havanas National Theater, as part of the Cuerda Viva Festival. The following two days they will participate in the longest rock concert ever in Cuba (24 hours of rock at Havanas La Tropical club, in which 40 bands will play from 12 to 12). On the 27th, they will return to La Tropical, and on the 29th are scheduled at the Jose Marti Anti-imperialist Plaza, a presentation "that represents an enormous pride and great responsibility. Its an honor to be at such an emblematic place playing our music and representing our country," he said. Another performance has also been scheduled for the University of Holguín, on the eastern side of the island.
With more than 16 years of appearances on international and Argentinean circuits, where they have shared the stage with popular bands like "Divididos" or "Bersuit Vergarabat", Mancha de Rolando will board the aircraft "very excited about this upcoming experience," says Tano. "We want to have exchanges with as many Cuban artists as possible, and to join in recitals to get to know each other and compare our music."
The drummer assures that they will deploy their rock artillery in Cuba, backed up by eight albums influenced (and very much so!) by groups ranging from The Beatles and the Rolling Stones to Led Zeppelin and Metallica, without forgetting thee outstanding artists: Pablo Milanes, Joan Manuel Serrat, and Astor Piazolla.
"For us a band with a social commitment is one that has its eyes and ears wide open to sense what is happening around it. Our senses are on the alert for the Latin American reality, with humbleness and our hearts full of pride for being part of its culture," said Tano. He then stresses his words when he mentions the name of Ernesto "Che" Guevara as an indestructible reference point.
"Che has been an emblematic figure in our career. We consider him a model of ideals and of work. He was a passionate person who fought for his beliefs to the end. Taking into account that this year marks the 80th anniversary of his birth, we are sure that the music and the energy displayed in the concerts will be unique."
Mancha de Rolando performs classic rock, and was founded in 1991 in the city of Avellaneda, located south of Buenos Aires, the Argentine capital. The group is made up by five musicians: (Manu, voice and guitar), Franchi (guitar), Carlitos (bass), El Tano (drums) and El Conde (keyboards).
Source:
www.granma.co.cu
(Cubarte)
---
Related News
---