Next Aló Presidente will be in Santa Clara. Chavez, honoring Che, gives Venezuela doctors 60 percent raise
Submitted by: admin

10 / 09 / 2007
---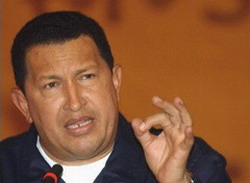 Venezuelan President Hugo Chavez said that doctors working for the public health system will get a 60 percent pay raise in honor of Cuban revolutionary hero Ernesto ``Che'' Guevara, who was a trained physician.
Venezuela, the fourth-biggest supplier of crude oil to the United States, will tap increased revenue from oil exports to increase pay for public doctors, Chavez said last night during a ceremony to commemorate the 40th anniversary of Che's death.
``This is justice for those that work for life and health of the Venezuelan people,'' Chavez said at the ceremony in Caracas, according to a statement from the government's Information Ministry.
Chavez has used his country's oil income to more than triple public spending over the past four years, increasing the government's role in the economy and helping spark the fastest inflation in Latin America. Last week, he announced a 40 percent pay raise for teachers.
The 60 percent raise for doctors will take effect Nov. 1.
The Venezuelan president said yesterday he will broadcast his next Sunday television program, called ``Alo Presidente,'' from Santa Clara, Cuba, the site of a monument honoring Guevara.
Source: By Matthew Walter, Bloomberg
---
Related News
---