US sister-city group highlights Cuba medical achievements
Submitted by: admin

04 / 10 / 2007
---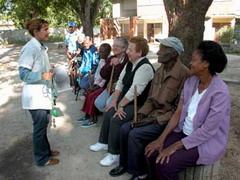 The US Boulder-Cuba Sister City Organization will screen a film at the University of Colorado on Monday presenting Cuba's health care achievements as an example to follow by countries that face serious problems in that important field of society.
The film, titled Salud (Health), is part of a Conference on World Affairs that will address health care problems around the world. "Although Cuba doesn't rank high on the list of the world's richest countries, the Cuban government has set up one of the best health-care systems in the world," said Dr. Peter Bourne, executive producer of the film and he noted that Cubans have been able to combine preventive care and treatment.
Bourne, who chairs the non-profit Medical Education Cooperation with Cuba, explained that the expectancy of life in Cuban is high, if compared to far wealthier countries. According to the World Health Organization, noted Bourne, the average man and women in Cuba live to be 75 and 80 respectively, the same as in the wealthier United States.
The Cuba Sister City Organization based in the city of Bouder has promoted sisterhood relations with the locality of Yateras, in the eastern Cuban city of Guantanamo, since 2002.
Source: Periodico26.cu
---
Related News
---