The Cuban artist Octavio Irving won "La Joven Estampa" Awards 2007
Submitted by: admin

05 / 27 / 2007
---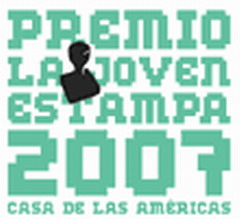 The Cuban painter, Octavio Irving, won "La Joven Estampa" Awards 2007, an event sponsored by Casa de las Americas, with his painting sequence "Persistencia de las formas".
The jury, integrated by Carlos Colombino (from Paraguay), Guillermo Núñez (from Chile) and David Mateo (from Cuba), highlighted the impeccable technique of his works, by means of which Irving develops a concept that is full of meanings and changes.
The jury board gave a special mention to "Cromoterapia", by the Cuban painter Victor Manuel Ortega. Some 140 artists from 15 countries presented their works at this contest. The jury granted the following six mentions: to Norman Gabriel Morales Bedoya (from Guatemala), Oscar Camilo de las Flores (from El Salvador), Paola Viteri Dávila (from Ecuador), Verónica Navarrese (from Costa Rica), Sigfredo Mendoza and Vivian Lozano (from Cuba).
The jury at this IXth edition of "La Joven de Estampa" Awards agreed on the great importance of this contest that takes place every two years, and has the participation of Latin American and Caribbean engravers up to 35 years. This kind of event for young people should continue to support the creation of new engravers. "La Joven Estampa" in Cuba has been giving this opportunity for 20 years.
Source: Prensa Latina
---
Related News
---