Silvio helped chileans breathe
Submitted by: admin

02 / 28 / 2007
---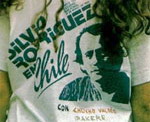 Cuban singer-songwriter Silvio Rodriguez readies his third tour of Chile accompanied by gratitude for songs secretly brought into that nation that "helped us breathe" during the dictatorship," a Chilean intellectual declared.
Silvio held an informal meeting at the Cuban Embassy yesterday with Chilean friends, intellectuals and politicians, including Minister of Culture Paulina Urrutia.
The author of "Unicornio" said he knew his songs went from hand to hand during Augusto Pinochet s dictatorship in cassettes and discs with covers veiling their origin, and he saw some on his second visit in 1990.
At his first visit in 1972, under President Salvador Allende, he was invited with Pablo Milanes and the late Noel Nicola to the Fourth Congress of the Communist League led by Gladys Marin.
As well as performing, beginning March 4, Silvio will attend the inauguration of the Gladys Marin Foundation, homage to the late Chilean combatant.
On his sources of inspiration, Silvio is never categorical, although many find motivations in his lyrics.
Such are the cases of "Unicornio" at John Lennon's death, "El necio" at the collapse of the former Soviet Union, "La era" when Comdr Ernesto Che Guevara was murdered in Bolivia in 1967, and "Santiago de Chile" on Sept 11, 1973 with the first news on the military coup.
The Cuban artist announced a possible return to Chile in November to pay homage to Cuban conductor and composer Leo Brouwer that would include two concerts with a Chilean symphony orchestra.
Source: Prensa Latina
---
Related News
---