Rehab centers that work miracles
Submitted by: admin

03 / 11 / 2007
---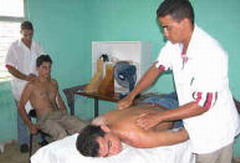 Watch out! He hears the warning, but it is too late to do anything. In a few seconds, Lester becomes aware of the drama that will soon take hold of his life. "My God, I'm going to die," he thinks as he juggles to control his motorcycle. He tries to avoid the crash with a sudden turn of the wheel, but his 25 years collide against the bus that has stolen his right of way.
"Will he be able to walk again?," his mother asks the doctor.
"I am not going to deceive you, but... ," the doctor says reticently
Six months after the accident, Lester is very depressed lying in bed. His friends try to cheer him up, but he evades them with any pretext. "Why don't you go to a rehabilitation center," says a neighbor, ho assures that they work miracles in those places. But Lester replies that it would be a waste of time, as he believes that there is no cure for him.
People insist, but he continues to refuse. "If you go, you will see how..." they add to convince him. But he repeatedly says no.
One morning, however, he changes his mind. "Take me there," he asks, and he is taken by car to the polyclinic where a specialist evaluates his case.
Then he undergoes therapy putting much will and energy in the treatment...finaly he walks again
The Sensitivity of a Project
"The construction of rehabilitation centers is part of a project that the Cuban government is carrying out to raise the quality of public healthcare," says Doctor Aldo Cortez, assistant director of the Public Health system in Las Tunas.
Thirteen of those centers have been built in this province, nine of which are already providing services. They are spacious, functional, and rooms outfitted with modern equipment.
Another significant advance in this area is the integration of other services that were previously given separately. These centers work as rehabilitation facilities inside the polyclinics, and soon they will be available in rural hospitals.
The services will substantially improve when the rehabilitation centers are equipped with machines for cardiovascular therapy, the strengthening of arms and legs.
Likewise, electrotherapy equipment will be installed.
Doctor Cortez added that small rehabilitation units have also been set up in rural communities.
In 2006 more than 35,000 patients were attended in the new rehabilitation centers. Previously those people had to go to the provincial capital to receive the treatment.
Source: By Juan Morales, Periodico26
---
Related News
---