Qualifying from villa to patrimonial city
Submitted by: admin

06 / 01 / 2007
---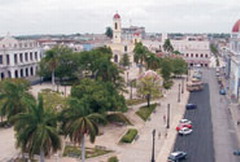 In 1819, a handful of French colonists headed by Don Louis D'Clouet founded the Fernandina de Jagua Villa, located some 250 km southeast Havana. Over the years, the place turned into a prosperous city currently known as Cienfuegos City.
The Villa was born and developed around a big Jagua tree, which in those days populated the area. The exact founding site has been pinpointed with a granite rosette fixed at José Martí Park in 1922. It serves as a reminder of the citys birth place.
Formerly, the park was the Royal Plaza or the Square of Arms. But its name has been changed several times; Plaza de Ramírez, Plaza de Recreo and Parque de la Independencia...
The Plaza, declared as Cubas National Monument for its many patrimonial values covers 90 hectares downtown in Cienfuegos and prides on its marble monument of Cubas National Hero José Martí put in place in 1926.
Most important public buildings standing around the Plaza are; the Cathedral Church, Palace of Government, formerly the City Council, the former San Lorenzo School and currently 5 de Septiembre Secondary School, Tomas Terry Theatre, the old Spanish Casino housing today the Provincial Museum, the Ferrers Palace and several housings.
Cienfuegos historic buildings are located in a conservation area and stand out among others built up in Ibero-American countries.
The whole city, known as "The Pearl of the South" is part of Cubas National Monument since April 22, 1995, and declared as Worlds Cultural Heritage by UNESCO since July 2005. Other elegant constructions are the Valle Palace, Prado Promenade -the longest on the island- and Reina Cemetery.

And on the other side of Jagua Bay there still stands upward the colonial fort Nuestra Señora de los Ángeles de Jagua guarding the beauty and integrity of the city even before it came into existence.
Source: CubaSi
---
Related News
---