Hospice care at Cuba nursing event
Submitted by: admin

05 / 31 / 2007
---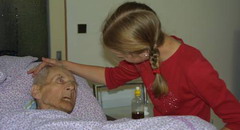 Hospice care was high on the agenda for 800 delegates from 20 countries attending the International Congress on Nursing in this capital Thursday.
With the theme "Humanizing the art of caring for people," physicians, nurses and paramedical staff presented their experiences in palliative care.
Jose Carlos Bermejo, director of the Center for Humanization of Health in Madrid, told press that hospice care represents an excellent opportunity to talk of the humanization of medicine.
He promoted the use of palliative care to avoid painful treatments and foster a humanist and deep care that does not exclude relatives of patients with life-threatening illnesses.
According to Bermejo, this kind of assistance breaks medical paradigms regarding how people deal with the death process.
Source: Prensa Latina
---
Related News
---