Haiti's president returns from medical treatment in Cuba, says health is fine
Submitted by: admin

12 / 30 / 2006
---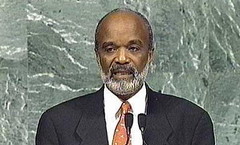 Haitian President Rene Preval returned to the country Friday from Cuba, where he said doctors told him he did not have prostate cancer.
Haitian National Television broadcast images of Preval's arrival at the airport greeting the prime minister, Cabinet members and the police chief as he stepped out of a Cuban jet. Other news organizations were not granted access to his early morning arrival.
The president said he would go back to see his Cuban doctors on March 18, but that the health of his prostate was "under control" and the cancer had not returned.
"The Constitution says that if a president is not in good health, he can't continue with his functions but that doesn't apply to me because I'm in good health," he said in remarks that were broadcast some 12 hours after his arrival in Port-au-Prince.
Preval, 63, revealed earlier this month that blood tests in Havana showed possible signs of cancer but said the results were inconclusive. He was diagnosed with prostate cancer in 2001, the final year of his first presidential term, and was treated in Cuba.
"A lot of people who have had prostate cancer have to see a doctor on a regular basis," he said at the airport.
The president's disclosure comes as Haiti struggles against the gang violence and kidnappings that erupted after a 2004 rebellion overthrew former President Jean Bertrand-Aristide.
Source: International Herald Tribune
---
Related News
---