Good cuban showing at Brazil track and field event
Submitted by: admin

05 / 22 / 2007
---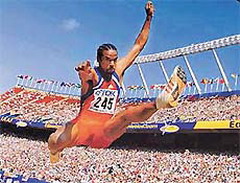 Cuban athletes Yoel Hernandez (hurdles) and Guillermo Martinez (javelin) took first place over the weekend at the Track and Field Grand Prize competition in the Brazilian city of Belem.
The event was the last of four in the South American country in preparation for the Rio de Janeiro Pan American Games in July.
Yoel, several time finalist at world championships, had his best time of the year (13.48) in the 110-meter hurdles to win from Anselmo da Silva of Brazil (13.56) and Jamaican Maurice Wignall (13.65).
Four days after achieving the third best javelin throw of the year (85.93), Guillermo Martinez threw 83.94 meters to beat Igor Janik of Polland (80.02) and Peter Esenwein of Germany (78.05). Cubas Yudel Moreno (71.72) and Emeterio Gonzalez (64.70) finished eighth and tenth.
Other Cubans finished in the top three of their events in a competition where two world records were tied by Brazilian Keila Costa in the long jump and Jadel Gregorio in the triple jump.
Costa jumped 6.88 meters to beat the Cubans Yargelis Savigne (6.59) and Yudelkis Fernandez (6.41). Gregorio, indoor world championship runner up in Budapest (2004) and Moscow (2006), flew 17.90 meters to surpass the South American record of Joao Carlos de Oliveira by one centimeter. Oliveras mark was also the world record from 1975 to 1985.
Cubas Osniel Tosca, a recent winner at the 2nd ALBA Games in Venezuela , finished second with 17.35, ahead of Brazilian Leonardo Elisario dos Santos (16.75) and Cuba s Yoadri Betanzos (16.73).
Yumileidi Cumba, Cuba s Athens 2004 Olympic Champion, threw the shot put 18.45 meters to finish behind Nadine Kleinert of German (18.66). Misleydis Gonzalez (18.35) finished fourth behind Jillian Camarena of the United States (18.37).
Victor Moya and Sonia Bissent finish third in the high jump and javelin. Moya reached 2.28 meters in the event won by Jesse Williams of the United States with 2.30. Germaine Mason of Jamaica had the same hight as Moya.
Bisset threw the javelin 57.46 meters, not far enough to beat Kim Kreiner of the United States (60.56) and Brazilian Alessandra Resende (58.43).
Source: Granma
---
Related News
---