Genetic counseling services available for pregnant women in Santiago de Cuba
Submitted by: admin

05 / 12 / 2007
---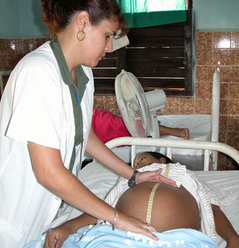 Starting this year, every pregnant woman and three-month-old infant in Santiago de Cuba will be assessed by specialists in genetics. The decision aims at reducing infant mortality stemming from congenital malformations, which have a bearing on the quality of life of all newborns, whether malformed or not.

Dr. Dulce M. Hechavarria, head of the Provincial Genetics Center , told the Sierra Maestra newspaper that over 30 Masters-level counselors "more than one per municipality" have the mission of advising couples and providing them with alternatives in cases of risky pregnancies.

"They contribute to increasing people's awareness of genetic issues," said Dr. Dulce Hechavarria, a second degree specialist in clinical genetics.

"They are also appealing to community organizations and local radio stations to raise people's consciousness about environmental and hereditary risk factors," added the expert, who is also gives advice at offices located outside the provincial capital.

Congenital malformations, particularly cardiovascular ones, are the leading cause of death among live birth infants less than one year of age in this province, the second most populated in the country. Every health facility in the city provides prenatal ultrasound examinations, which detect 85-90 percent of the instances of malformation.

Consequently, one-hundred abortions are performed in Santiago de Cuba annually due to the detection of congenital malformations in fetuses.

In late 2006, Santiago de Cuba reported an infant mortality rate of 7.9 per 1,000 live births. While this figure is one of the highest in the country, it is lower than those of most countries in the world " some with levels of economic development higher than Cuba 's.

---
Related News
---