Frida and Diego: life after death
Submitted by: admin

05 / 31 / 2007
---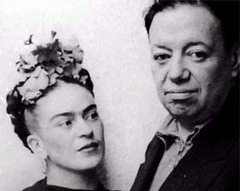 A homage to Frida and Diego; Voices From the Land, will begin July 6, scheduled to coincide with the centennial of the famed Mexican artist, Frida Kahlo, announced the organizers in a news conference at Casa de las Américas.
It will continue until November 24, marking 50 years since the death of her partner, Diego Rivera, considered one of the most important Latin American painters of all time.
The lives and work of these two important artists, myths of Mexican and universal fine art because of their significant creative legacy will be remembered through a series of events sponsored by the Casa Benito Juárez, the Mexican embassy in Cuba, the Pablo de la Torriente Brau Cultural Center and Casa de las Américas.
"Frida is the only example in the history of art where an artist bared her heart to reveal the truth of her feelings. She was an important painter and the best example of the renaissance of art in Mexico," Diego said once in defense of the work of Frida. Hers was also a genuind autobiography of the stormy existence marked by traditional elements of her land and clearly defined a nationalist political position which placed her among the best artists on the continent. It is impossible to separate her life and work since both are unavoidably bonded paradigms when dealing with subjects such as self-portraiture and identity in fine arts.
The first event in the program is a collective exhibition of photographs, engravings and painting, From the Skin of Eva in the Eyes of Adam, where more than forty artists with different techniques and formats will pay
homage to them. Among them are Zaida del Río, Cosme Proenza, Lesbia Vent Dumois, Agustín Bejarano and Nelson Domínguez.
There will be a childrens workshop given by specialist Elba Gutiérrez which will concentrate on revealing the poetry of the famed Mexicans. Students of the San Alejandro Academy of Fine Arts will paint a mural and both events will be held at the Casa Benito Juárez in Old Havana.
The homage will also include a theoretical event entitled Una cinta que envuelve una bomba (A ribbon that envelopes a bomb), an academic seminar which will gather Mexican and Cuban specialists, to be held from September 12 to 14.
Two contests, one of posters and another of songs will complement the program scheduled to end with a collective exhibition of Mexican painters, Viva la vida: Frida. It will be open to the public in September at the Latin American Gallery of Casa de las Américas.
Source: By Cecilia Crespo, Granma
---
Related News
---