Erotic art by Aldo Soler
Submitted by: admin

03 / 07 / 2007
---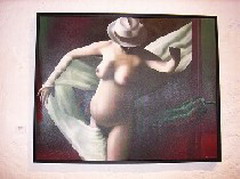 Aldo Soler, from Cuba, has developed a style of appreciation and expression that has turned him into one of the most popular artists in his field. His recent exhibition, which can be seen at the Finca del Arte, is his third appearance at the gallery.
He explores the relationship between women and their surroundings and common everyday objects are often to be found in the paintings.
His work is big and bold, provocative but not pornographic. Using mostly acrylics on canvas, Soler portrays women in various poses or gives us a mere glimpse of their form. His style is modern, almost pop art, and the colours he uses are vivid and expressive, with strong, clear lines. Different textures feature highly, with materials such as sawdust being incorporated into the paint, and he shows a keen eye for the correlation between light and dark.
Aldo Soler was born in Cuba in 1948. Between 1965 and 1967 he studied in the countrys National School of Art, specialising in scenery design and construction for the dramatic arts. He continued his studies at the same university, though specialising in painting, and graduated in 1972. He taught art at the Cuban Arts School for 10 years before becoming a full time artist in 1987.
He has won several competitions and has taken part in numerous exhibitions in Cuba as well as in Africa and Europe. He has been commissioned for several murals; many of them with a political or social theme. These include the monumental 'Mural of the Pathfinder, in New York - for which he painted the portraits of Fidel Castro and Karl Marx - and the 'Images of Ché presentation at the XIV World Festival of Youth and Students in Cuba.
The exhibition can be seen until March 14th at the Finca del Arte restaurant and gallery, Chayofa. It is set in large, beautiful gardens where you can enjoy a pleasant afternoon or evening, often with the accompaniment of live music. See more of Aldo Solers work at: www.cubarte.com
The gallery also has a permanent exhibition of paintings, sculptures and hand made jewellery. You can visit their website at: www.fincadelarte.com or call 922 729103 for more information.
Source: Cubarte
---
Related News
---