Eduardo Arrochas memories
Submitted by: admin

11 / 30 / 2006
---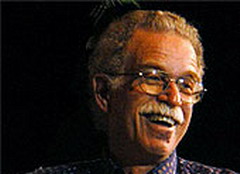 By: Daynet Rodríguez Sotomayor
Perhaps many do not know him off stage, but the history of scenic arts on the Island certainly would be different without Eduardo Arrochas drawings. He wanted to be a painter. This is why hes a graduate of the National School of the Fine Arts San Alejandro. But timely he recognized his paintings did not express all he wanted to and quit. Months of frustration came over until he took a course in scene design taught by his first teacher Rubén Vigón. At the end of it, he teamed with some classmates to open an exhibition that attracted the interest of top choreographers and theatre directors. Alicia Alonso saw his pieces and asked him to collaborate with Cubas National Ballet Company. "It was then that I stepped into the world of design in triumph".
Precisely it was the prima ballerina Alonso's Giselle through which Arrocha and the companys staff received the Grand Prix de la Ville de Paris 1966 in recognition to innovative choreographic work, very much appreciated because at that time there were not resources enough to spend so the challenge was big: make available a good design for an emblematic ballet of the BNC. "It was a hard task but creativity won in the end and we prepared the finest backdrops with simple fabrics. Where other designers would have worn, for example, pearls, we used timber instead. it was a very hard work indeed". And now after forty years of that event and in a second thought Arrocha claims that design did have plastic arts touches and if hes urged to do it again he would not know how. Anyway they all contributed to set a milestone in stage design.
Regardless his apparent lack of interest, hes also a key element in the production of the classic choreography Súlkary of Cubas Contemporaneous Dance Company, "in an amazing synthesis he revealed the dancer bodys beauty by detailing the many attributes of human beings".
"I like Súlkary very much. It was one of my first works for Danza Contemporánea de Cuba at that time called Conjunto Nacional de Danza Moderna. It recently turned 35 and still uses the same design I first made. In fact I have retouched it abroad when choreographer director Eduardo Rivero has asked me to".
Other favorite piece and a landmark, too, is Cecilia Valdés presented in the Cathedral Square in the course of Havanas Ibero-American Summit, as well as several releases teamed with Nelson Dorr as La fierecilla domada and Medea y los negreros again for Danza Contemporánea Company. It marks a set of three elements; stage design, wardrobe and lights.
Several times nominated for the National Dance Award and a serious candidate for the Theater Prize relying on over 400 pieces enhancing the authors talent, fancy and dedication. "I put so much passion in all my work even in the smallest ones that I do not miss anything. Fortunately Ive worked on all the classic ballets with every big names in dance and direction, except for Vicente Revuelta and Abelardo Estorino and regarding choreographers Ive worked with 68 and marvelous projects keep on raining and that pleases me a lot. However I do not lower the guard because there are still things to be done".
Source: CubaSi
---
Related News
---