David Price succumbs in Cuba at 55
Submitted by: admin

12 / 15 / 2006
---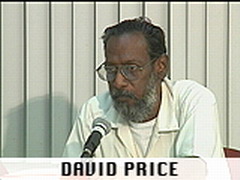 Belize has lost one of its most stalwart and indomitable servants - Mr. David Price, who passed away in a public hospital in Cuba early Wednesday, December 13, 2006. While the cause of his death has not yet been reported to us, relatives say that he most likely died from complications of his diabetic condition. A death certificate is still pending.


On Monday, November 13, Mr. Price was flown to Cuba for specialized medical treatment. He had been receiving treatment at the Karl Heusner Memorial Hospital and Universal Health Services in Belize City prior to his transfer to Cuba.Relatives said that his condition had improved recently, but suddenly took a turn for the worse this week.


Mr. Price celebrated his 55
th birthday on November 22, and his son, Adrian, said that he went to spend time with his dad. When he arrived, he met his father on oxygen and "drips," but he was elated to see his fathers condition improve to the point where he was able to come off the machines, talk to him, sit up, and be more active. He was even able to read all the messages that loved ones had sent to him, and he asked about his children and grandchildren, Adrian said.
He added that it was after they moved him to the nephrologist floor of the hospital that his father died. At the time no surgery was done on him and medics were still running tests, Prices son said. Relatives were very hopeful and praying for his full recovery, but unfortunately he succumbed early Wednesday.


Prices family said that he was diagnosed with diabetes about ten years ago, and five years ago, due to the diagnosis of a heart condition, he was given only five years more to live. Over the years he has been receiving treatment in Belize, Jamaica, Cuba, and Guatemala, but even with his medical challenges, Price still worked hard, his children said.


Despite his delicate health, Price still accepted the call when he was asked in March 2005 to chair the Commission of Inquiry into the Development Finance Corporation, and relatives said that for the last three sessions which he chaired, he did so even though he was feeling ill.


When we last spoke with Mr. Price from his KHMH hospital bed on Thursday, November 2, he admitted that his work with the Commission had negatively affected his health, as the work was very stressful and having to sit for long periods had taken a toll on him.


Still, relatives said that his life was the ultimate price he was willing to pay to do a work that he felt he was called to do.


Someone told him that he was going to kill himself with the job he was taking on, and his reply was that he had to do it.


When the ruling Peoples United Party pressured him to step down as chairman and accused him of partiality, Price was driven with even more fire, his sons told us.


Perhaps what made the politicians nervous was Mr. Prices history of activism. Since his younger days, he used to be very active with the struggle of labor unions and he wanted to one day enter politics, but it never happened, and instead, Price remained committed to a teaching profession for almost two decades. He taught at Wesley College, St. Johns College, and Sacred Heart College. He was also the principal of Gwen Lizarraga High School for several years until he was retired on medical grounds around the mid-1990s.


Still, he and his good friend, David Gibson, used to love to discuss political issues.


David Price was born to Eric and Gladys Price of Corozal Town and attended school there until he came to Belize City and started Sixth Form at Wesley College.


Later, he pursued studies in political science at the University of the West Indies and the University of Gainsville, Florida.


Linda Elrington Price, Mr. Prices first wife, said that when they had their first son, David, Jr., he was so elated, he cried, and carried on the celebration of his sons birth for three consecutive days.


Mr. Price is survived by his four sons - David, 28; Adrian, 24; Eric, 19; and Aaron, 15; and his only daughter - Sherima, 26. He is also survived by his second wife, Michelle Hyde Price, who, we understand, has been by his side in Cuba during his ailment.


His surviving siblings are his brothers - Michael Price of Belize and Rowland Price of Michigan; and three sisters - Norma Drupaul of Canada; Betty Mayer of Michigan; and Daisy Hagos of Washington, D.C.


Linda said that just before he was flown off to Cuba, David Price had "a marvelous conversion" and was baptized into the Christian faith.
The family is now trying to work our funeral arrangements, which, they said, would not likely be finalized before his body arrives from Cuba early next week.


The venue of the funeral has been set as Wesley Church, and Mr. Prices officiating minister of choice, according to his loved ones, is Reverend David Goff.


Everyone will sadly miss him, relatives said, because he was a true servant, not only in his professional life but also in his personal life. While his children were growing up, he used to help them dress, cook, iron, and help them with schoolwork, and especially at Christmas, he would come home with a load of gifts and goodies for them. When the family separated, he used to have them over every Christmas, Ms. Linda said.


So it is with deep sadness that they will spend this Christmas without him, but according to Sherima, their dad tried to ensure that even in his illness they would get their gifts, as he had already asked Michelle to buy their Christmas presents.


On a final note, because of Prices extensive hospital stay in Belize, the family is welcoming the publics assistance in helping to settle the remaining medical bills at UHS. Contributions can be made to the Alliance Bank account 506161.


His medical expenses in Cuba are being met under an agreement between the Government of Belize and the Government of Cuba.
Cuban Ambassador, Enrique Martinez, was today unavailable for comment when we tried to contact him regarding arrangements for the return of Mr. Prices body.


(Kremandala extends its deepest sympathies to the family of Mr. David Price. Rest in peace, thou faithful servant.)
Source: Amandala Online
---
Related News
---