Cuban public health graduates 900 new nurses
Submitted by: admin

05 / 14 / 2007
---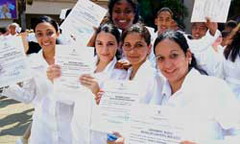 "What our revolution and nation will be like within 10, 15, 20 or 30 years has a lot to do with the conduct and attitudes of all of you, the example, the love and the passion with which you serve people."
This was the message of Cuban Public Health Minister Dr. Jose Ramon Balaguer Cabrera in his the closing address on Saturday at the graduation ceremony for 937 nursing students from the Manolito Aguiar and Dr. Salvador Allende schools, both in Havana.
The ceremony was dedicated to the International Day of the Nurse, commemorated on May 12, and the 30th anniversary of the beginning of the studies for a degree in that specialty in Cuba.
The director of the Manolito Aguiar Nursing School, Yoira Vega Pena, said "the 937 graduates have insured the continuity of program, because now they can become technicians and subsequently receive higher level degrees in nursing." She added that "these new graduate have a more comprehensive grounding after fulfilling three years of social service; moreover, they have the opportunity to pursue careers in medicine, stomatology, psychology, biology, biochemistry and microbiology."
In terms of their places of work, Yoira Vega specified that 472 will lend their services in surgical hospitals, 141 will work in maternal hospitals, 119 in pediatric hospitals, 117 in institutes and 88 in specialized hospitals " all of which are environments in where they will continue their pre-professional training while preparing for final comprehensive exams.
On behalf of the graduates, Aismel Gonzalez Bravo, a graduate from the Salvador Allende School of Nursing, expressed her thanks to the Cuban government and the national public healthcare system for the opportunity to study, graduating and become a better human being; she confirmed her the commitment to serve people and develop as a professional with a high sense of social responsibility, sacrifice, humanism, altruism and infinite love.
Source: Juventud Rebelde
---
Related News
---